01.07.2013 | Ausgabe 3/2013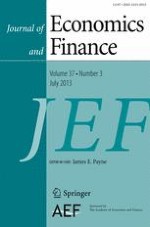 Carry-trades on the yen and the Swiss franc: are they different?
Zeitschrift:
Autoren:

André Varella Mollick, Tibebe Abebe Assefa
Abstract
Using monthly data from 1986 to 2009 for 11 major currencies against the U.S. dollar (USD), we find that interest rate differentials between nine of these currencies are generally positive (sample mean of 0.86%) but are strongly negative for Japan (mean of −2.78%) and for Switzerland (mean of −2.22%). Investigating empirical models of nominal exchange rate changes we find for all panels that about 2% of real exchange rate misalignments are corrected in the following month. We also find important differences across samples and for the two carry-trade currencies the key results are as follows. First, interest rate differentials have a negative impact on exchange rates: higher paying currencies should appreciate, contrary to the
ex-ante
uncovered interest rate parity (UIP) condition. We find that this result is very robust to money supply (M1) differentials serving as instrumental variables to inflation rates. In addition, these two currencies depreciate slightly when money supply (M1) differentials increase. Second, dummy variables for periods of market turmoil suggest a particularly strong appreciation of these currencies against the USD, consistent with the unwinding of carry-trade activities.