2018 | OriginalPaper | Buchkapitel
12. Case Study C: Beyond Agent-Level Benefits—The Effect of Resilience by Teaming on Network-Level Resilience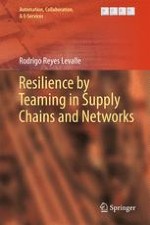 Erstes Kapitel lesen
Autor: Rodrigo Reyes Levalle
Abstract
Agent-level resilience mechanisms received significant attention over the last years. A wide variety of approaches have been developed based on a trade-off between increased resilience and higher redundancy and use of excess resources. Despite the capacity of some approaches to increase agents' resilience, their relative benefits have seldom been analyzed from a global perspective. Research in complex systems has successfully linked network formation/re-configuration phenomena, driven by agent-level association/dissociation decisions, and the impact of topology on network performance and survivability (Barabási and Albert
1999
; Albert et al.
2000
; Albert and Barabási
2002
; Tangmunarunkit et al.
2002
; Thadakamalla et al.
2004
; Brede and de Vries
2009
). Nevertheless, decision mechanisms analyzed mostly rely on simple probabilistic association/dissociation rules and fail to account for more complex decision criteria involved in supply network formation and re-configuration processes. Regardless of the magnitude of the benefits obtained from any agent-level strategies, it is not possible to extrapolate these benefits to the performance of the entire SN. Furthermore, it is necessary to understand if local benefits are obtained at the expense of performance losses in other SN agents, and whether these approaches create vulnerabilities that hinder SNs ability to be resilient. This chapter analyzes and discusses the benefits of RBT-based decisions relative to traditional SN formation and re-configuration mechanisms based on the results of Reyes Levalle (
2015
) and Reyes Levalle and Nof (
2015a
). Results show how local teaming-driven decisions effectively modify SN topology and its ability to overcome disruptions with minimal impact on the SN objectives.