01.08.2014 | Ausgabe 15/2014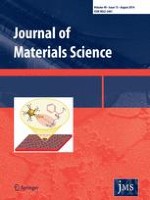 Castor oil-based polyurethane coatings containing benzyl triethanol ammonium chloride: synthesis, characterization, and biological properties
Zeitschrift:
Autoren:

Hadi Bakhshi, Hamid Yeganeh, Abbas Yari, Sakineh Karbalaei Nezhad
Abstract
In the present work, benzyl triethanol ammonium chloride (BTEAC) was employed as a reactive bactericidal additive for preparing of polyurethane coatings. In this regard, castor oil as a renewable resource-based polyol, polyethylene glycol (PEG1000), and BTEAC were reacted with toluene diisocyanate. Physical, mechanical, and thermal characteristics as well as biocompatibility and antibacterial properties of polyurethanes were evaluated. The prepared polyurethanes showed two-phase structure with soft and hard segments glass transition temperature transitions in the range of 18–70 and 85–153 °C, respectively. Initial modulus and tensile strength were improved for coatings with higher BTEAC content, while elongation at break and thermal stability were decreased. Hydrophilicity of coatings was increased for polyurethanes based on higher content of BTEAC and PEG1000. Polyurethanes with higher BTEAC content showed better cytocompatibility for mouse L929 fibroblast cells. Moreover, coatings with higher hydrophilicity and BTEAC content displayed superior antibacterial activity against both
Escherichia coli
and
Staphylococcus aureus
bacteria.