01.12.2013 | Original Paper | Ausgabe 18-20/2013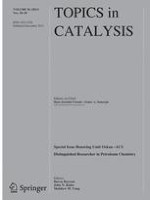 Catalysis in Energy Generation and Conversion: How Insight Into Nanostructure, Composition, and Electronic Structure Leads to Better Catalysts (Perspective)
Zeitschrift:
Autoren:

William D. Michalak, Gabor A. Somorjai
Abstract
Catalysts are essential for the generation of energy carriers like hydrocarbon fuels, hydrogen, and electrical current. The performance of catalysts can be related to their nanostructure (i.e., size and shape) and composition. To rationally design catalysts by tuning these properties, they should be measured in a meaningful way using surface-sensitive spectroscopic tools under reaction conditions. In this perspective, we provide case histories of recently published research aimed at understanding these properties using a spectroscopic strategy under reaction conditions. We limit this perspective to studies whose main focus was to understand how the nanostructure and composition impact the active phase and/or efficiency of catalysts for the generation and conversion of energy carriers. We discuss studies of a Pd/Ga
2
O
3
catalyst for the generation of hydrogen fuel from methanol and water, a PtMo catalyst for the generation of hydrogen fuel from biomass and water, Pt/Rh catalysts for the conversion of hydrogen into electrical current, a CeO
x
catalyst for the conversion of hydrogen into electrical current, and Fe and Co/CoPt catalysts for the generation of hydrocarbon fuel from carbon monoxide and hydrogen. Each study emphasizes how the use of spectroscopic tools under reactive conditions is beneficial for making rational decisions for improving catalysts. The studies demonstrate how different synthesis methods dictate the nanostructure and distribution of alloy components in the catalyst, certain pretreatment conditions create the active surface phase, while reactions and post-treatments can destroy it, and the nanostructure and composition change the electronic structure and alter the selectivity and activity.