05.03.2018 | Biomaterials | Ausgabe 11/2018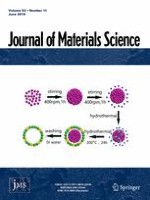 Catalytic conversion of Kraft lignin to bio-multilayer graphene materials under different atmospheres
Zeitschrift:
Autoren:

Qiangu Yan, Xuefeng Zhang, Jinghao Li, El Barbary Hassan, Chuji Wang, Jilei Zhang, Zhiyong Cai
Wichtige Hinweise
Electronic supplementary material
Abstract
Kraft lignin was catalytic graphitized by iron at 1000 °C in argon, hydrogen, CO2, methane, and natural gas atmospheres, respectively. The effect of atmospheric agent types on product distribution (gas, liquid, and solid carbon yields) was analyzed. The solid products were characterized by scanning electron microscopy, Raman, high-resolution transmission electron microscopy, and X-ray diffraction. Experimental results have shown that the degree of graphitization of Kraft lignin depends not only on the highest temperature, but also the type of ambient gas phase during heat treatment. Methane and natural gas in the ambient gas phase seem to accelerate the formation of multilayer graphene materials with a range of 2–30 layers, and hydrogen and carbon dioxide have an etching effect on solid carbon species during the catalytic graphitization process, while multilayer graphene-encapsulated iron nanoparticles were the main products in the case of argon.