2017 | OriginalPaper | Buchkapitel
Catalyzing Social Impact Investments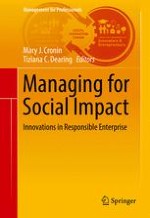 Erstes Kapitel lesen
Autor: Michael Gilligan
Abstract
Over the last two decades, a growing focus on for-profit investment for social impact has highlighted the opportunity for private capital to play a meaningful role in addressing social change in new, substantive ways. Heightened activity in the public policy arena, growing support from many prominent private foundations, and mounting political will around community-based economic development programs are all contributing to an environment now conducive to attracting private capital with a social mission. Importantly, as more categories of investors seek to make an impact, socially minded investment is beginning to demonstrate its potential to provide market rate returns.
After briefly tracing the evolution and appeal of impact investing in the environmental, health, and education sectors, this chapter discusses how patient capital invested under the right conditions can also achieve significant levels of social impact in the form of economic empowerment for underserved populations through providing quality employment opportunities. When such investments can also deliver financial returns on a par with money invested in "socially neutral" markets, this can translate into major increases in capitalization of socially positive companies especially during their growth stage.
In this context, the author also identifies an emerging opportunity for impact investing in later stage businesses, with the full potential to generate returns that would typically be attractive to private equity investors. The chapter concludes that with well-managed, smaller sized funds, late-stage impact investors can play an important role in enabling social change while also realizing attractive financial returns.