1996 | OriginalPaper | Buchkapitel
Cation Exchange Capacity of Manure-Straw Compost — Does Sample Preparation Modify the Results?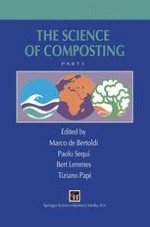 Erstes Kapitel lesen
Autor: M. H. Saharinen
Verlag: Springer Netherlands
Enthalten in: Professional Book Archive
Effective cation exchange capacity (ECEC) of mature manure-straw compost was determined by saturation-exchange method. Analysis was carried out on either fresh or dried and ground composts.Drying of the sample increased ECEC values, whereas drying accompanied with grinding did not seem to have any effect on ECEC, as compared with ECEC values analyzed from fresh compost.This study implies that ECEC determined of samples which are dried and ground describes well the actual cation exchange properties of the mature manurestraw compost, and that fresh compost can also be used for CEC determinations.