2019 | OriginalPaper | Buchkapitel
7. Caves and Sinkholes in Florida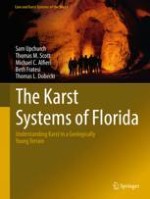 Erstes Kapitel lesen
Autoren: Sam Upchurch, Thomas M. Scott, Michael C. Alfieri, Beth Fratesi, Thomas L. Dobecki
Abstract
Types of sinkholes in Florida include (1) solution sinkholes formed by dissolution of shallow limestone; (2) suffosion sinkholes where non-cohesive sediments ravel directly into limestone voids; (3) rock-collapse sinkholes formed by collapse of cave roofs; (4) cenote, deep water-filled rock-collapse sinkholes; (5) cover-collapse sinkholes formed by the rapid failure of sand and clay over a limestone void; (6) cover-subsidence sinkholes formed by slow dissolution of the upper surface of a carbonate-rich sediment; and (7) alluvial, or relict, sinkholes.
Other surface depressions include those similar to "Carolina bays" with hybrid karst and aeolian origins, and pseudokarst depressions formed by differential compaction in marine terrace sands, pedogenesis, and other non-karst processes. Karst windows are sinkholes formed by rock or cover collapse and that expose the water-table aquifer. Uvalas are coalescent sinkholes with complex outlines and multiple sinkholes. Although they do not have steep walls, Florida's poljes are uvalas that have been filled by lacustrine or paludal sediments. Collapsed caves occur in traces as a string of karst windows or a wet linear depression.
Sinkhole risk has been evaluated several times in Florida; while sources of elevated risk are known, there is no way to predict where or when sinkholes will develop. Risks include injury, structural damage, flooding, and aquifer contamination.
Both vadose and phreatic, epigenetic caves are associated with current and former water table positions. Because of the high water table or potentiometric surface of the Upper Floridan Aquifer (UFA), air-filled, vadose caves are mostly found on ridges and topographically high areas. Deep phreatic caves near the coasts may be hypogenetic, caused by mixing in freshwater/saltwater transition zones.
Vadose caves are commonly decorated with secondary speleothems, such as stalactites, flowstone, soda straws, and calcite crystals. Phreatic caves rarely contain secondary cave formations. Deposition of speleothems can be caused by evaporation, CO2 degassing, and chemical oversaturation of water with respect to calcite. Analyses of stalactites from caves in central Florida reveal a record of deposition correlated to major climatic patterns extending to the late Pleistocene.