18.04.2020 | Original Research | Ausgabe 9/2020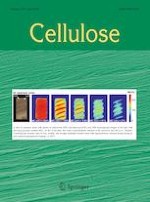 Cellulose acetate with CTA I polymorph can be defibrated into nanofibers to produce a highly transparent nanopaper
Zeitschrift:
Autoren:

Shogo Taira, Masataka Tsuruhara, Ryo Saito, Keiichi Koda, Yasumitsu Uraki, Haruo Konno, Shu Shimamoto
Wichtige Hinweise
Electronic supplementary material
Publisher's Note
Springer Nature remains neutral with regard to jurisdictional claims in published maps and institutional affiliations.
Abstract
Acetylated cellulose nanofibers (Ac-CNFs) were prepared by heterogenous acetylation of wood pulp and cellulose powder in toluene with acetic anhydride and a small amount of sulfuric acid as a catalyst, followed by defibration with a high-pressure homogenizer, but the resultant Ac-CNFs were thermally unstable due to the release of sulfuric acid from the sulfate ester group at elevated temperature. The sulfate ester group was removed before defibration by acidic hydrolysis to yield cellulose acetate (CA) with high thermal stability. The thermal decomposition temperature at 5% weight loss increased from 170 to 284 °C, and the crystalline structure was cellulose triacetate I (CTA I) after annealing at 230 °C. However, only thick Ac-CNFs with a diameter of more than 20 nm and many bundles were obtained by defibration of the desulfated CA. Thin Ac-CNFs with a diameter of 10 nm were obtained by changing the preparation process to defibration of CA followed by desulfation, probably due to the electrostatic repulsion and/or osmotic effect of the anionic sulfate ester group. Transparent nanopapers could be fabricated by slow evaporation of water from the Ac-CNF aqueous suspension. The obtained nanopapers revealed more than 80% transmittance in the visible light region and showed higher tensile strength and modulus than commercial CA films.