03.08.2017 | Original Paper | Ausgabe 10/2017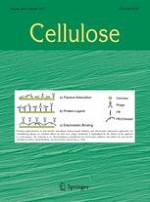 Cellulose nanocrystals/polyethylene glycol as bifunctional reinforcing/compatibilizing agents in poly(lactic acid) nanofibers for controlling long-term in vitro drug release
Zeitschrift:
Autoren:

Hou-Yong Yu, Chuang Wang, Somia Yassin Hussain Abdalkarim
Abstract
Electrospun poly(lactic acid) (PLA) nanofibers would seem be poor carriers for drug delivery due to their hydrophobicity, high crystallinity, weak mechanical strength and burst drug release due to poor compatibility with hydrophilic drugs. Thus, in this work, cellulose nanocrystals (CNC) as reinforcing agents and polyethylene glycol (PEG) as a compatibilizer to increase dispersion of both CNC and tetracycline hydrochloride (TH) in PLA matrix were successfully electrospun. The addition of CNC/PEG reduced fiber diameters, enhanced fiber uniformity, and the water contact angle was decreased from 117.3° for neat PLA to 98.0° for composite nanofibers with 10 wt% CNC/PEG. When drug-loading levels were further increased, the contact angle was decreased from 119.3° to 75.0°, and fiber diameter was decreased from 680 ± 34 nm for neat PLA with 3 wt% THs to 340 ± 17 nm for composite nanofibers with (TH 30%). More interestingly, more than 95.7% of drug contents were delivered within 1032 h, high drug loading efficiencies of composite nanofibers were more than 98%, and long-term sustained release behavior of composite nanofibers was obtained. The composite nanofibers showed good hydrophilicity and biocompatibility with MG-63 cells. Furthermore, compared to neat PLA, a 57.1% improvement in tensile strength and 240% increase in Young's modulus were achieved for the composite nanofibers with (TH 15%). Additionally, the maximum decomposition temperature (
T
max
) of the composite nanofibers with (TH 30%) was improved by 7.7 °C. The composite nanofibers with improved physical and hydrophilic properties, especially long-term drug release, showed good biocompatibility for use as a drug carrier for long-term sustained drug delivery systems and replacing the traditional medical dressings in biomedical applications.