2012 | OriginalPaper | Buchkapitel
Challenges at the Intersection of Social Media and Social Innovation: A Manifesto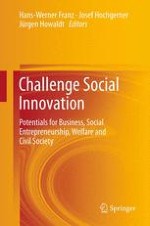 Erstes Kapitel lesen
Autoren: Christoph Kaletka, Karolin Eva Kappler, Bastian Pelka, Richard Ruiz de Querol
Verlag: Springer Berlin Heidelberg
Abstract
Inspired by recent critical social and economic developments – and their most visible eruptions in the Arab world, Spain and Greece – which demonstrate that there is a relatively low barrier of entrance for individuals and groups to adopt social media for virtually any shared purpose, objective or cause, a "manifesto" has been written by a group of transdisciplinary researchers, activists and practitioners from the fields of ICT and social movements.
It promotes the possibility of using social media as a platform to effectively support the processes of social innovation, overcoming its limitations of speed and scale to become an alternative to currently established institutional mechanisms. Such social innovations comprise all new strategies, concepts, ideas and organizations that meet current social needs and strengthen civil society.
Further, the present paper proposes a framework for research into the elements of socio-technical architectures capable of sustaining large scale social innovations enabled by the availability of social media, considering the "paradigm shift of communication" in a knowledge society and describing key challenges of social innovation initiatives. In this context, the objective of the Manifesto on Social Media for Social Innovation is to propose actions oriented to extract the best of the potential synergies among those two concepts of social innovation and social media.