2016 | OriginalPaper | Buchkapitel
10. Challenges from Integrating Usability Activities in Scrum: Why Is Scrum so Fashionable?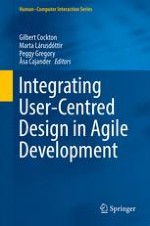 Erstes Kapitel lesen
Autoren: Marta Lárusdóttir, Åsa Cajander, Gudbjörg Erlingsdottir, Thomas Lind, Jan Gulliksen
Abstract
S
crum is currently a widely used process in most areas of software development. Conversely, usability activities as prescribed in the area of HCI are not widely used in the software industry, especially not in agile software development projects. Through an analysis of interview and survey data from five studies we scrutinize the reasons for choosing Scrum, consequences of using Scrum, and study the challenges of integrating usability activities in Scrum projects are scrutinized. Our results show that the IT professionals appreciate the inherent values in Scrum, which are speed and communication internal to the Scrum team. Also, working in teams and focusing on a small number of tasks at a time is valued. The main challenges are that including specialists in the teams is hard and Scrum does not always match with external requirements for the organizations. Usability activities in Scrum are found to be informal and implicit, even sometimes hidden behind more fashionable concepts such as security and accessibility to increase priority. In addition, usability activities are often seen as not fitting in the pace of the project. Two of the underlying questions in the paper are: Why is Scrum so fashionable? How can usability activities be better integrated in agile projects? Answers to these questions are discussed in the chapter.