07.11.2019 | Focus | Ausgabe 4/2020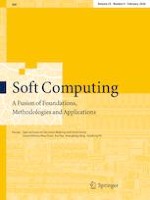 Chance constrained programming models for uncertain hub covering location problems
Zeitschrift:
Autoren:

Junbin Wang, Zhongfeng Qin
Wichtige Hinweise
Publisher's Note
Springer Nature remains neutral with regard to jurisdictional claims in published maps and institutional affiliations.
Abstract
Hub covering location problem is a typical strategic decision with the purpose of locating hubs and determining the assignments of other nodes to ensure the travel time is not exceeding a specific threshold. Since the parameters such as flows and travel times are difficult to be precisely obtained in advance, a feasible way is to estimate them following the experts' subjective beliefs. Hence, this paper is devoted to study hub covering location problem by using uncertain measure to characterize the subjective belief and considering the flows and travel times by uncertain variables. The uncertain hub set covering location problem is first discussed under the purpose of covering the flows entirely with the minimum setup cost of hubs. Then the uncertain hub maximal covering problem is studied by maximizing the total flow covered when the number of hubs is confirmed previously. Chance constrained programming models for both problems are constructed, respectively, and their corresponding deterministic forms are derived. A hybrid intelligence algorithm named GA–VNS is proposed by combing the variable neighborhood search with the genetic algorithm. Finally, several numerical experiments are presented to indicate the efficiency of GA–VNS.