04.11.2017 | Original Article | Ausgabe 1/2018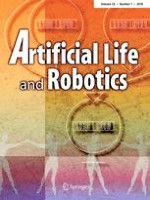 Changes in brain activation associated with backlash magnitude: a step toward quantitative evaluation of maneuverability
Zeitschrift:
Autoren:

Kazue Sugiura, Toru Tsumugiwa, Ryuichi Yokogawa
Wichtige Hinweise
This work was presented in part at the 22nd International Symposium on Artificial Life and Robotics, Beppu, Oita, January 19–21, 2017.
Abstract
In recent years, there have been many studies on human–machine cooperative systems. Studies evaluating human maneuverability by questionnaire and operating performance have been reported; however, quantitative analyses of human perception when operating a machine have not been conducted. The present study focuses on mechanical backlash to evaluate maneuverability quantitatively. The purpose of this study is to propose a method to quantitatively evaluate the perception of mechanical backlash. To evaluate the degree of backlash perception, biological information of subjects was measured while they used the fingertips of their right hand to rotate a mechanism under different magnitudes of backlash: 1.3, 1.0, 0.7, and 0.4 mm. Biological information including higher brain functions and surface potential signals were measured using near-infrared spectroscopy and surface electromyography, respectively. On a questionnaire after each trial, the subjects reported if they could perceive the mechanical backlash using a four-point scale (1: hardly; 2: a little; 3: somewhat; 4: clearly). The results of the questionnaire on the magnitude of the backlash indicated that subjects were able to perceive all of the backlash conditions at nearly the same level. We confirmed that changing the magnitude of the backlash changed the brain activation state.