01.02.2009 | Ausgabe 1/2009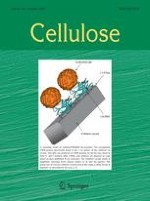 Changes in the intra- and inter-fibrillar structure of lyocell (TENCEL®) fibers caused by NaOH treatment
Zeitschrift:
Autoren:

Hale Bahar Öztürk, Antje Potthast, Thomas Rosenau, Mohammad Abu-Rous, Bill MacNaughtan, K. Christian Schuster, John R. Mitchell, Thomas Bechtold
Wichtige Hinweise
A part of this paper was presented at the 5th Central European Conference 2007, Fiber Grade Polymers, Chemical Fibers and Special Textiles, Krakow-Bielsko-Biala, Poland, 5–8 September 2007.
Hale Bahar Öztürk, Antje Potthast, Thomas Rosenau, Bill MacNaughtan, John R. Mitchell, Thomas Bechtold—Members of European Polysaccharide Network of Excellence (EPNOE),
www.​epnoe.​org
.
Abstract
Some effects of NaOH treatment at concentrations of up to 8 M on (1) the porous structure, (2) the degree of swelling, (3) carboxyl content using methylene blue sorption and 9H-fluoren-2-yl-diazomethane (FDAM) methods, (4) dyeing, (5) the molecular weight distribution measured by gel permeation chromatography (GPC), (6) crystallinity determined by wide angle X-ray diffraction (WAXD) and (7) the tensile properties of lyocell fibers were investigated. The porous structure of fibers was visualised using fluorescence microscopy and transmission electron microscopy (TEM) on fiber cross-sections and was also studied by inversion size exclusion chromatography (ISEC). Mean pore diameter and pore area of fibers were not changed by NaOH treatments. The pore volume increased above 2.5 M NaOH. NaOH-treated samples showed higher dye uptake, higher swelling, but lower carboxyl and moisture content and increased crystallinity. As the NaOH concentration increased, the depth of colour following dyeing with C.I. Direct Red 81 also increased due to deep penetration of alkali into the fiber. In general, fiber properties were distinctly different in the ranges 0 to approximately 3 and 3–8 M NaOH.