2017 | OriginalPaper | Buchkapitel
5. Changing Course of the Haora River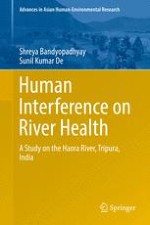 Erstes Kapitel lesen
Autoren: Shreya Bandyopadhyay, Sunil Kumar De
Abstract
The course of a river is very dynamic in nature. After originating from the western flank of Baramura range, the Haora River is flowing in western direction through the Agartala syncline and finally meets with the Titas River in Bangladesh. From the source to its mouth, for the entire stretch, the Haora River more or less has an unchanged course for a time period of 1932–2005 except in three parts where remarkable changes have been noticed during the aforesaid time. The stretches of the Haora River where the changes have taken place are listed below:
(a)
The interfluvial zone between the Haora, Katakhal and Titas rivers where the Katakhal tributary is getting detached from the Haora River
(b)
The course from the College Tilla up to the Bangladesh border
(c)
The course which is flowing through the Jirania and Ranirbazar blocks
Within these three stretches, the course of the first stretch had changed due to some micro-scale tectonic activity and due to structural control. For this change the Katakhal, one of the major tributary of the Haora River, was getting detached from the main river. The Haora River also had change its confluence point with the Titas River in Bangladesh. In the rest two stretches, course changes are evidenced due to rapid human intervention.