2020 | OriginalPaper | Buchkapitel
Changing the Philosophy of Full-Scale-Fatigue-Tests Derived from 50 Years of IABG Experience Towards a Virtual Environment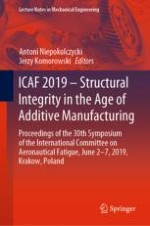 Erstes Kapitel lesen
Autoren: Gerhard Hilfer, Olaf Tusch, Don Wu, Michael Stodt
Abstract
IABG has continuously developed new techniques in order to improve time, cost and quality for full-scale fatigue tests.
With the advancement of virtualisation of the aircraft development and certification process, questions have to be raised as to how full-scale fatigue tests can be incorporated into these processes and how virtualisation can benefit from physical testing.
Virtualisation will speed up aircraft development to its next level and will change time, cost and planning expectations. Will full-scale fatigue testing (FSFT) still fit into this context?
Authorities are demanding physical tests for new aircraft types for good reasons. Testing experience in fact confirms that some significant issues were first detected during the full-scale fatigue tests.
The purpose of full-scale fatigue tests may, however, be changing. The amount of available but unused information gathered during fatigue runs is still sizable, and only by changing the approach to fatigue tests the return on investment could be increased.
It will be required to introduce agile methods and processes to the preparation and performance of the full-scale fatigue test to align the test with the dynamic evolution of the aircraft's requirements and design. In the end this could result in a new philosophy of full-scale fatigue tests, moving from flight-by-flight testing towards purely artificially triggered load sequences in order to demonstrate the correctness and reliability of the virtual qualification tools which will be of crucial importance for any virtually based certification. This paper, however, is aiming as well at describing some of the more near-term benefits the FSFT can contribute in view of the long-term goal.