2015 | OriginalPaper | Buchkapitel
Channel Hot Carrier Degradation and Self-Heating Effects in FinFETs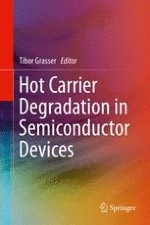 Erstes Kapitel lesen
Autoren: Moonju Cho, Erik Bury, Ben Kaczer, Guido Groeseneken
Abstract
The Channel Hot Carrier (CHC) degradation mechanisms are studied in 3-dimensional
n
-FinFET devices. In long channel devices, the most degraded condition is at low vertical electric field stress (V
G
 ∼ V
D
/2) due to the interface degradation by hot carriers, while cold/hot carrier injection to the oxide bulk defect dominates at the high vertical field stress condition (V
G
 = V
D
). In short channel devices, however, the most degraded condition is at high field stress around V
G
 = V
D
, because hot carriers are generated continuously at high V
G
 = V
D
and injected into the oxide bulk defects. The cold carrier contribution to the total CHC degradation is negligible in the short channel
n
-FinFETs.
Then, the CHC reliability is studied as a function of fin width at VG = VD stress condition, where higher CHC degradation is observed on narrower fin devices. Both interface degradation by hot carriers and pre-existing bulk oxide defects filling contribute significantly to the total CHC degradation. Though the CHC degradation magnitude is higher in narrower FinFETs, the degradation mechanism does not change as a function of fin width.
Lower CHC degradation is observed in 45° rotated substrate devices, due to the lower initial Nit at the fin side-walls than for the non-rotated device. The lower Si atom density in the 45° rotated FinFET device leads to lower interface degradation.
The effect of fin corners is also discussed. Rounded and sharp corner
n
-FinFETs do not show a significant difference in PBTI. Since the vertical field applied to the oxide is lower in CHC than PBTI, the corner rounding effect is expected to be negligible in CHC reliability.
An overview of measurement and simulation methodologies for the self-heating effect (SHE) is provided in the last section. It is found that self-heating is a non-negligible phenomenon in the SOI and FinFET technologies, compared to the planar devices. In FinFETs, degradation mechanisms can be activated even at usual operating conditions, which potentially impact device reliability.