2006 | OriginalPaper | Buchkapitel
Channeling Effect in Fracture of Materials with Nanostructured Surface Layers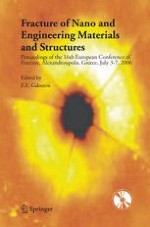 Erstes Kapitel lesen
Autoren: V. E. Panin, A. V. Panin
Verlag: Springer Netherlands
1
The "chessboard" distribution of normal and tangential tensile and compressive stresses on the "nanostructured surface layer — substrate" interface is revealed for metal materials (Fig. 1).
Figure 1.
The "chessboard" model of the conjugation between nanostructured surface layer and substrate ("+" - compressive stress,"-" - tensile stress)and channeling propagation of localizedshear.
2
A stochastic two-level model of the chessboard stress distribution on the interface is worked out. The simulation results correlate well with appropriate experimental data.
3
In tension of metal materials with nanostructured surface layers one can observe the effects of strain channeling in the nanostructured surface layer and fracture of the specimen as a whole. This is related to shear localization and subsequent propagation of the main crack along "chessboard squares" with normal tensile stresses (Fig. 2).
4
On the stage of uniform specimen elongation in the nanostructured surface layer localized deformation bands evolve in the conjugate directions of maximum tangential stresses τ
max
. On the prefracture stage a localized deformation macroband in the form of an extended neck propagates in the conjugate τ
max
directions zigzagging along the whole specimen length. On the stage of localized neck formation one can see the development of two macrobands self-consistent by the scheme of a dipole or a cross (Fig. 3).
5
We have measured experimentally the evolution of main plastic shear in localized deformation macrobands in the neck and rotational deformation modes associated with localized shears. With non-compensated rotational deformation modes, the main crack is generated in two localized deformation macrobands in the neck and then the specimen fails.
6
Methods of governing the channeling effects of plastic flow and fracture of the material with nanostructured surface layers are proposed.