2013 | OriginalPaper | Buchkapitel
7. Characteristic Functions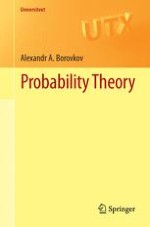 Erstes Kapitel lesen
Autor: Alexandr A. Borovkov
Verlag: Springer London
Abstract
Section
7.1
begins with formal definitions and contains an extensive discussion of the basic properties of characteristic functions, including those related to the nature of the underlying distributions. Section
7.2
presents the proofs of the inversion formulas for both densities and distribution functions, and also in the space of square integrable functions. Then the fundamental continuity theorem relating pointwise convergence of characteristic functions to weak convergence of the respective distributions is proved in Sect.
7.3
. The result is illustrated by proving the Poisson theorem, with a bound for the convergence rate, in Sect.
7.4
. After that, the previously presented theory is extended in Sect.
7.5
to the multivariate case. Some applications of characteristic functions are discussed in Sect.
7.6
, including the stability properties of the normal and Cauchy distributions and an in-depth discussion of the gamma distribution and its properties. Section
7.7
introduces the concept of generating functions and uses it to analyse the asymptotic behaviour of a simple Markov discrete time branching process. The obtained results include the formula for the eventual extinction probability, the asymptotic behaviour of the non-extinction probabilities in the critical case, and convergence in that case of the conditional distributions of the scaled population size given non-extinction to the exponential law.