12.09.2019 | Original Research | Ausgabe 15/2019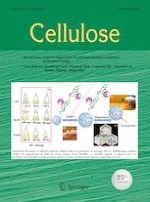 Characteristic microcrystalline cellulose extracted by combined acid and enzyme hydrolysis of sweet sorghum
Zeitschrift:
Autoren:

Haiwei Ren, Jiali Shen, Jiawen Pei, Zhiye Wang, Zhangpu Peng, Shanfei Fu, Yi Zheng
Wichtige Hinweise
Electronic supplementary material
Publisher's Note
Springer Nature remains neutral with regard to jurisdictional claims in published maps and institutional affiliations.
Abstract
Microcrystalline cellulose (MCC) has been widely used in medicine, food and cosmetic industries. In this study, a combination method by using hydrochloric acid hydrolysis and fibrolytic enzyme purification was studied to extract MCC from sweet sorghum. The response surface methodology was employed to optimize the hydrochloric acid hydrolysis condition and therefore to maximize the MCC yield and cellulose content (purity). The optimal conditions for the hydrochloric acid hydrolysis were determined to be acid concentration of 7.0%, liquid–solid ratio of 17.3:1, time of 90 min, and temperature of 40 °C. Under such conditions, the yield and cellulose content of acid-extracted MCC were 81.8% and 93.2%, respectively. For enzyme refining of acid-extracted MCC, the optimum conditions were enzyme dosage of 4000 U/g substrate and time of 2 h, with which the yield, cellulose content and DP of the refined MCC were 80.03%, 99.80% and 287, respectively which were comparable to that of the commercial MCC (Lowa®PH101). Scanning electron microscopy, X-ray diffraction, Fourier transmission infrared spectroscopy, thermogravimetric analysis (TGA), and 13C NMR were used to characterize the refined MCC. The refined MCC demonstrated rod-shaped morphologies, and had a series of characteristic absorption peaks and chemical groups pertain to cellulose as similar to the Lowa®PH101. The X-ray diffraction pattern and 13C NMR spectrum reflected that the refined MCC had typical cellulose I structure. TGA indicated that the refined MCC had good thermal stability. This study showed sweet sorghum is a potential low-cost raw material for MCC production, and the combined acid-enzyme extraction method is promising to extract high purity MCC from cellulosic substrate.