01.08.2018 | Ausgabe 5/2018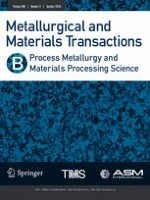 Characterization and Recovery of Copper from Converter Copper Slag
Via

Smelting Separation
Zeitschrift:
Autoren:

Shiwei Zhou, Yonggang Wei, Yu Shi, Bo Li, Hua Wang
Wichtige Hinweise
Manuscript submitted October 9, 2017.
Abstract
Converter copper slag can be viewed as an important secondary resource for valuable metals, considering its high commercial value. The current research investigates the recycling of copper by a combination of theoretical and experimental methods. Based on a modified Stokes equation, it was determined that copper droplets in the molten slag exhibited a low terminal settling velocity of 2.140 × 10−6 m/s. The copper particles will collide with each other during settling, resulting in particle growth. The results from high temperature experimentation, scanning electron microscopy, and energy-dispersive spectroscopy confirm that in the absence of reducing agents, copper droplets are encased in magnetite to form composite 'Cu droplet–magnetite' particles. Other copper droplets adhere to magnetite particles which are suspended in the slag in a short-range-ordered array. The study also confirms that in the presence of increasing amounts of anthracite as a reducing agent, the magnetite content of the slag is progressively decreased and the recovery of copper from the slag is significantly improved. Based on the findings from this work, a new processing route is proposed to treat copper slag for the recovery of copper.