01.11.2010 | Originals Originalarbeiten | Ausgabe 4/2010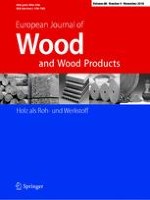 Characterization of a formaldehyde-free cornstarch-tannin wood adhesive for interior plywood
Zeitschrift:
Autoren:

Amine Moubarik, Ahmed Allal, Antonio Pizzi, Fatima Charrier, Bertrand Charrier
Abstract
This study investigated the physical properties (rheological and thermogravimetric analysis) of cornstarch-tannin adhesives and the mechanical properties (dry tensile strength and 3-point bending strength) of plywood made using cornstarch-tannin adhesives. This adhesive was evaluated for its utility in interior plywood manufacture. The optimum cure temperature and cure time of cornstarch-tannin adhesives were 170°C and 4 min, respectively. Plywood bonded with formaldehyde-free cornstarch-tannin adhesive exhibited excellent mechanical properties comparable to commercially available phenol-formaldehyde plywood adhesives. It was found that cornstarch-tannin panels which do not contain formaldehyde and with an emission equal to that of heated but unbound wood can be obtained by the use of hexamethylenetetramine (hexamine) as hardener.
The work has indicated that an environmentally friendly wood adhesive can be prepared from a natural renewable resource (cornstarch and wattle tannin) for bonding interior-type plywood.