12.08.2016 | Ausgabe 1/2017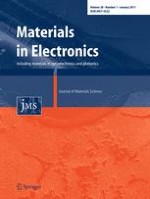 Characterization of a new system of NTC temperature-sensitive ceramics based on Al/F modified NiO simple oxides
Autoren:

Gaomin Wang, Hong Zhang, Xiang Sun, Ya Liu, Zhicheng Li
Abstract
Al/F modified NiO, Ni
1−

x
Al
x
O
1−

y
F
y
(
x
≤ 0.05,
y
≤ 0.05), ceramics were prepared by using wet-chemical synthesis methods followed by a traditional ceramic sintering technology. The phase component and related electrical properties of the ceramics were investigated. The results show that all the prepared ceramics have the effect of negative temperature coefficient (NTC) of resistivity. The room temperature resistivities (
ρ
25
) and material constants (
B
25/85
) of the Ni
1−

x
Al
x
O
1−

y
F
y
NTC ceramics can be adjusted by changing the concentrations of Al and F. The
B
25/85
values are from 1705 to 5884 K for the Al-content changes from 0 to 0.05 in Ni
1−

x
Al
x
O
0.96
F
0.04
. The investigations by analyzing the electrochemical impedance spectra at various temperatures show that both grain effect and grain-boundary effect contribute to the NTC feature of the ceramics. The conduction mechanisms combining the electron-hopping model and band conduction are proposed for the NTC effect in the Ni
1−

x
Al
x
O
1−

y
F
y
ceramics.