11.04.2020 | Original Research | Ausgabe 9/2020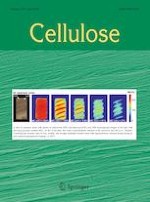 Characterization of blended cellulose/biopolymer films prepared using ionic liquid
Zeitschrift:
Autoren:

Saerom Park, Yujin Oh, Jeongchel Yun, Eunjin Yoo, Dahun Jung, Ki Soo Park, Kyeong Keun Oh, Sang Hyun Lee
Wichtige Hinweise
Electronic supplementary material
Publisher's Note
Springer Nature remains neutral with regard to jurisdictional claims in published maps and institutional affiliations.
Abstract
Owing to their inherent biocompatibility and biodegradability, biopolymer-based materials are a good replacement for synthetic materials. We prepared cellulose-based films blended with various biopolymers by co-dissolution in 1-ethyl-3-methylimidazolium acetate followed by regeneration in ethanol. Cellulose was blended with bacterial cellulose, β-cyclodextrin, dextran, starch, agarose, agar, arabic gum, κ-carrageenan, chitosan, tragacanth gum, xanthan gum, xylan, lignin, gelatin, collagen, and silk. Physicochemical properties including surface morphology, thermal properties, optical properties, and hydrophilicity/hydrophobicity of the blended films were highly dependent on the biopolymer types. The altered properties of the blended films influenced the adsorption capacity for dyes and proteins and cytotoxicity. The adsorption capacity of a cellulose/chitosan film for methyl orange was 9.1-fold higher, that of a cellulose/silk film for crystal violet was 7.9-fold higher, and that of a cellulose/chitosan film for lysozyme was 7.9-fold higher than that of cellulose film. Gelatin as a blending biopolymer most efficiently enhanced cell viability.