20.03.2019 | Production Process | Ausgabe 3-4/2019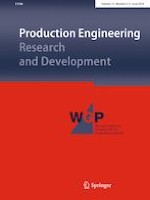 Characterization of chemical surface finishing with cold acetone vapours on ABS parts fabricated by FDM
Zeitschrift:
Autoren:

Alessandro Colpani, Antonio Fiorentino, Elisabetta Ceretti
Wichtige Hinweise
Publisher's Note
Springer Nature remains neutral with regard to jurisdictional claims in published maps and institutional affiliations.
Abstract
Additive manufacturing (AM) is a layer-by-layer fabrication process for producing complex parts with a high design flexibility. In particular, the interest in AM is growing in many fields, especially for fabricating highly customized parts. One of the most widespread AM techniques is fused deposition modelling (FDM), but an important limit for this technology is the low surface finishing. Therefore, the enhancement of the surface roughness of parts produced by FDM represents one of the main research challenges in this field. Several approaches have been proposed and the use of solvent for chemical finishing treatments has a great potentiality. The present research investigates the surface post-treatment process with cold vapours of dimethyl ketone (acetone) for 3D printed parts made in ABS and produced by FDM. In particular, the study focuses on the capability of the treatment in enhancing the surface finishing in terms of surface roughness, uniformity and treatment time. A full range of initial surface roughness were treated considering two different process setups and analysing the roughness evolution over the treatment time. Results showed a 98% reduction of the roughness within the post-treatment. Moreover, the most stable configuration was identified. Finally, the research outlined a map of the process which correlates the achievable surface finishing with the initial roughness of the part and with the treatment time.