29.05.2018 | Ausgabe 15/2018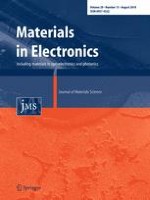 Characterization of CuInGeSe4 thin films and Al/n–Si/p–CuInGeSe4/Au heterojunction device
Autoren:

Talaat A. Hameed, I. M. El Radaf, Hani E. Elsayed-Ali
Abstract
CuInGeSe
4
thin films of various thicknesses were prepared on a glass substrate by thermal evaporation followed by selenization at 700 K. Energy dispersive X-ray analysis shows that the CuInGeSe
4
thin films are near stoichiometric. The X-ray diffraction patterns indicate that the as-deposited CuInGeSe
4
thin films are amorphous, while the CuInGeSe
4
thin films annealed at 700 K are polycrystalline with the chalcopyrite phase. The structure of the films was further investigated by transmission electron microscopy and diffraction, with the results verifying the X-ray diffraction data. High-resolution scanning electron microscopy images show well-defined grains that are nearly similar in size. The surface roughness increases with film thickness, as confirmed by atomic force microscopy. The optical transmission and reflection spectra of the CuInGeSe
4
thin films were recorded over the wavelength range of 400–2500 nm. The variation of the optical parameters of the CuInGeSe
4
thin films, such as the refractive index
n
and the optical band gap
E
g
, as a function of the film thickness was determined. The value of
E
g
decreases with increasing film thickness. For the studied films,
n
were estimated from the Swanoepl's method and were found to increase with increasing film thickness as well as follow the two-term Cauchy dispersion relation. A heterojunction with the configuration Al/n–Si/p–CuInGeSe
4
/Au was fabricated. The built-in voltage and the carrier concentration of the heterojunction was determined from the capacitance–voltage measurements at 1 MHz and were found to be 0.61 V and 3.72 × 10
17
cm
−3
, respectively. Under 1000 W/m
2
solar simulator illumination, the heterojunction achieved a conversion efficiency of 2.83%.