20.10.2015 | Ausgabe 11/2015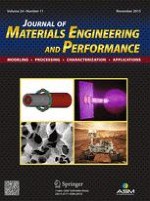 Characterization of GNP-Containing Al2O3 Nanocomposites Fabricated via High Frequency-Induction Heat Sintering Route
Zeitschrift:
Autoren:

Iftikhar Ahmad, Mohammad Islam, Tayyab Subhani, Yanqiu Zhu
Abstract
In this paper, we present alumina (Al
2
O
3
) nanocomposites reinforced with various graphene nanoplatelets (GNPs) concentrations (0.75 and 1.25 wt.%) and fabricated by rapid high frequency-induction heat (HF-IH) sintering route. The influence of the GNP on the microstructures, mechanical properties, and interfacial connections of the resulting nanocomposites were thoroughly investigated. GNPs were synthesized using combined chemical oxidation and thermal exfoliation processes and dispersed homogenously into base Al
2
O
3
ceramic matrix using colloidal chemistry technique. Pressure-assisted HF-IH sintering rapidly consolidated nanocomposites close to theoretical densities (~99%) without damaging the GNP intrinsic nanostructures and electron microscopy revealed firmly bonding of the nanocomposite constituents at interfaces. Nanocomposite samples containing 0.75 wt.% GNP demonstrated 60% finer microstructure with 45% higher fracture toughness (
K
IC
) and 9% improvement in hardness against benchmarked monolithic Al
2
O
3
. However, nanocomposites loaded with higher GNP contents (1.25 wt.%) showed deprived properties due to GNP accumulations. Homogenous dispersions and two-dimensional features allowed GNP to interact wide area of the matrix grains thus refined the microstructure and gave rise the grain anchoring mechanism thereby led nanocomposite to superior mechanical properties following GNP crack-bridging and pull-out toughening mechanisms.