04.08.2020 | Originalarbeit | Ausgabe 8/2020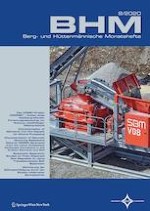 Characterization of Mertainen Iron Ore Deposit for Mineral Processing
Zeitschrift:
Autoren:

M.Sc. Dr. mont. Kari Niiranen, Viktoria Töyrä
Wichtige Hinweise
Publisher's Note
Springer Nature remains neutral with regard to jurisdictional claims in published maps and institutional affiliations.
Abstract
In 2006, LKAB tackled a challenging expansion strategy that included studying known iron ore deposits in Northern Sweden to investigate the possibilities of increasing the ore resources and, in an extension, to have the opportunity to mine iron ore at several sites in the future. One of the iron ore deposits under investigation is the Mertainen iron ore deposit, in which magnetite is the main and practically the only ore mineral of economic value. The most important gangue mineral in the ore deposit is dark green actinolite. Magnetite is also locally accompanied by some apatite and calcite.
At LKAB, the iron ore deposits and their amenability with respect to mineral processing have earlier been characterized and evaluated mainly based on the grade of important elements such as iron (Fe), phosphorus (P), vanadium (V) and silicon (Si). However, there are drawbacks when the crude ore shows more complex mineralogy and where a specific element is distributed in several different minerals. There are several challenges with the mineralogy of the Mertainen iron ore deposit. A high amount of SiO2 including alkali (Na and K) might end up in the final concentrate without successful beneficiation process. Another challenge is the loss of fine magnetite material that can occur in the separation via flotation.
A process design for the test work in pilot scale, corresponding to the flotation process at the LKAB's beneficiation plant in Svappavaara suite was established at the Geological Survey (GTK) in Finland. The results from the pilot flotation test work showed that the required silica grade (0.50% SiO2) was achieved at an iron (Fe) recovery of over 95% with both tested flotation collectors.