31.10.2018 | Original Article | Ausgabe 4/2018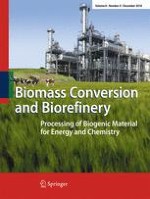 Characterization of mesoporous biochar produced from biogas digestate implemented in an anaerobic process of large-scale hog farm
Zeitschrift:
Autoren:

Wen-Tien Tsai, Yung-Yu Fang, Po-Hung Cheng, Yu-Quan Lin
Wichtige Hinweise
Publisher's Note
Springer Nature remains neutral with regard to jurisdictional claims in published maps and institutional affiliations.
Abstract
Using a laboratory-scale pyrolyzer, porous biochars were produced at a wide operating temperature range from 300 to 800 °C for holding times of 30–120 min from biogas digestate (BD), which was derived from the anaerobic digestion unit in a large-scale pig farm. The resulting biochars were characterized by elemental analyzer, oxygen-bomb calorimeter, inductively coupled plasma-optical emission spectrometer (ICP-OES), pycnometer, surface area and porosity analyzer, and energy dispersive X-ray spectroscopy (EDS). The pore properties of the BD-based biochar products were on an increasing trend as pyrolysis temperature increased, indicating that operating temperature at about 800 °C seemed to be the optimal condition for producing biochar. The Brunauer-Emmet-Teller (BET) surface area of the optimal biochar was about 110 m2/g due to its mesoporous feature. Furthermore, the mineral elements of the optimal biochar were rich in calcium (Ca), phosphorus (P), magnesium (Mg), silicon (Si), iron (Fe), and potassium (K), which should be present in the forms of phosphates, carbonates, oxides, silicates, or their composites. Based on the pore properties and chemical characteristics, the BD-based biochar could be used as an excellent soil conditioner.