19.06.2020 | Ausgabe 9/2020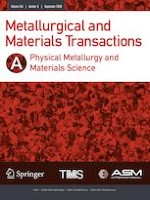 Characterization of Microstructure and Stress Corrosion Cracking Susceptibility in a Multi-pass Austenitic Stainless Steel Weld Joint by Narrow-Gap TIG
Zeitschrift:
Autoren:

Jingwen Zhang, Liming Yu, Zongqing Ma, Yongchang Liu, Chenxi Liu, Huijun Li, Hui Wang
Wichtige Hinweise
Manuscript submitted December 26, 2019.
Publisher's Note
Springer Nature remains neutral with regard to jurisdictional claims in published maps and institutional affiliations.
Abstract
In the present study, correlation of the microstructure and stress corrosion cracking (SCC) susceptibility in the top, middle and root regions of a multi-pass austenitic stainless steel weld joint fabricated by narrow-gap tungsten inert gas welding (NG-TIG) was investigated by slow strain rate tests (SSRT) following a microstructure characterization. The results show that from the top to root regions in both the heat-affected zone (HAZ) and weld metal (WM), the dislocation density and length fraction of the Σ3 boundaries present a decreased trend, while the grain size, length fraction of LAB and residual strain all increase. By comparing the microstructure of WM with HAZ,
δ
-ferrite in WM is excessive and continuous while that in HAZ is island-shaped and discontinuous. In addition, larger grain size, lower dislocation density, higher residual strain, lower length fraction of Σ3 boundaries and higher length fraction of RGB are observed in WM. As a result, the SCC susceptibility in various regions of the weld joint follows the order of root regions > middle regions > top regions and WM > HAZ.