01.04.2014 | Ausgabe 4/2014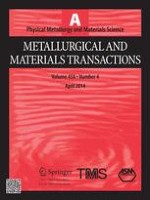 Characterization of Phase Transformations and Stresses During the Welding of a Ferritic Mild Steel
Zeitschrift:
Autoren:

D. Dye, H. J. Stone, M. Watson, R. B. Rogge
Wichtige Hinweise
The following pertains only to authors M. Watson and R.B. Rogge: Reproduced by permission of Minister of Supply and Services Canada.
Manuscript submitted April 17, 2009.
Abstract
The transient stresses and phase evolution have been characterized in the quasi-steady state produced around a gas tungsten arc welding torch in a plain carbon (ASTM 1018) steel using
in situ
neutron diffraction. A novel method has been developed to isolate the deviatoric or plane stress state in the presence of isotropic contributions to the lattice parameter, such as thermal expansion and solute content. The stress state was found to evolve in the anticipated manner, with compressive stresses ahead of the weld and tensile stresses behind the weld, in the weld and heat-affected zone, and compression in the far field behind the weld. In particular, the region of compression in the heat-affected zone adjacent to and just behind the welding torch expected from weld models was observed. The evolution of phase fraction around the weld was also determined using the technique and the stresses obtained from the ferrite phase.