27.07.2019 | Technical Paper | Ausgabe 3/2020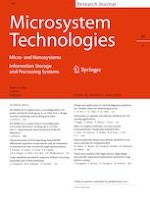 Characterization of SOI technology based MEMS differential capacitive accelerometer and its estimation of resolution by near vertical tilt angle measurements
Zeitschrift:
Autoren:

Yashoda Parmar, Nidhi Gupta, Vinita Gond, S. S. Lamba, Siva Rama Krishna Vanjari, Shankar Dutta, K. K. Jain, D. K. Bhattacharya
Wichtige Hinweise
Publisher's Note
Springer Nature remains neutral with regard to jurisdictional claims in published maps and institutional affiliations.
Abstract
This paper discusses the evaluation and testing of MEMS capacitive accelerometer (z-axis sensitive) fabricated using silicon-on-insulator (SOI) wafer. The accelerometer structure consists of highly conductive (p-type, resistivity: 0.001 Ω-cm) silicon proof mass (1000 μm × 1000 μm × 30 μm) suspended by four crab-like L-shaped beams (1150 μm × 30 μm × 30 μm) over Pyrex (7740) glass cavity (5 μm depth). Rest capacitance of the accelerometer structure is found to be ~ 2.1–2.25 pF range. Qualified accelerometer chips are packaged and sealed in lead less ceramic (LCC) package along with capacitive readout circuitry chip. Packaged accelerometer showed a scale factor sensitivity of ~ 47 mV/g in − 17–42 g acceleration range with 3% non-linearity. Corresponding cross-axis sensitivity also measured (2%) in full-scale range. Frequency response of the accelerometer showed a 3 dB bandwidth of 380 Hz. Resolution of the accelerometer is measured by an innovative technique involving inclinometer. Here, the device output is recorded at near vertical mounting tilt angle (θ ~ 90°) of inclinometer. Present accelerometer output can be resolved at the inclinometer measurement at 90° (output: 2.42662 V) and 89° (output: 2.42780 V) which corresponds to an acceleration resolution of ~ 17 mg.