01.12.2010 | Ausgabe 12/2010 Open Access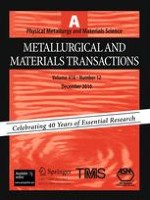 Characterization of Ternary NiTiPd High-Temperature Shape-Memory Alloys under Load-Biased Thermal Cycling
Zeitschrift:
Autoren:

Glen S. Bigelow, Santo A. Padula II, Anita Garg, Darrell Gaydosh, Ronald D. Noebe
Wichtige Hinweise
Manuscript submitted February 16, 2010.
2

Materials and Procedures
2.1

Material Processing and Characterization

Five alloys with Ti-rich target compositions of Ni

49.5

−x

Ti

50.5

Pd

x

(

x

= 15, 20, 25, 30, and 46 at. pct) were vacuum induction melted in graphite crucibles under a protective argon atmosphere using high-purity elemental constituents (99.98 wt pct Ni, 99.995 wt pct Pd, and 99.95 wt pct Ti) and cast into a 25.4-mm-diameter by 102-mm-long copper mold. The mold was equipped with a conical hot-top section to accommodate shrinkage within the casting during solidification. The resulting ingots were vacuum homogenized for 72 hours at 1323 K (1050 °C) and furnace cooled. After homogenization, the hot tops were removed, the ingots were sealed in mild steel cans, and they were extruded at 1173 K (900 °C) through an area reduction of 7:1.

Each extrusion was sectioned into 50.8-mm-long cylindrical blanks using a wire electrical discharge machine. Blanks were center drilled on each end and rough turned on a computer numerically controlled (CNC) lathe. Final machining of the samples on the CNC lathe produced cylindrical dog-bone-shaped tensile samples with 3.81-mm diameter by 16.4-mm-long gage sections and threaded button ends. To relieve any residual stresses from the machining operation, all of the samples were annealed at 673 K (400 °C) for 1 hour and furnace cooled.

All the alloys were characterized while in this stress-relieved condition, including thermomechanical testing, density determination, compositional analysis, and microstructural characterization. Density was determined using Archimedes' Principle. Chemical compositions were quantitatively measured using several techniques depending on the element. Metallic elements were measured using inductively coupled plasma emission spectroscopy, while LECO

1

N/O and C/S determinators were used to measure nitrogen, oxygen, and carbon contents. Each alloy was mounted, polished, and imaged in a JEOL

2

840 scanning electron microscope (SEM) and Hitachi

3

4700 field emission-scanning electron microscope (FE-SEM) to determine the basic microstructure and the relative volume fractions and compositions of any minority phases and particles. Each alloy was also etched and imaged optically to reveal grain structure and size. All phases in the Ni

19.5

Pd

30

Ti

50.5

alloy were positively identified by transmission electron microscopy (TEM) using a combination of electron diffraction and EDS analysis. This information was then used to identify and quantify the phases present in the remaining four alloys.
2.2

Mechanical Testing

All mechanical testing was performed on an MTS 810 servohydraulic load frame managed with an MTS FlexTest

4

SE digital controller allowing operation and triggering of multiple control channels simultaneously. Samples were held by threaded inserts, which were screwed into hot grip extension rods held by water-cooled hydraulic collet grips. Load was measured with a 100 kN/22 kip load cell. Strain within the gage section was measured with a high-temperature water-cooled extensometer with a 12.7-mm gage length and −10/+20 pct strain range, which used alumina extension rods with v-chisel tips held in contact with the sample surface by a frictionless knife-edge holding fixture. A Eurotherm

5

3504 temperature controller with remote set point was coupled with an Ameritherm NovaStar

6

7.5 kW induction heater to heat the samples, while a muffin fan attached to one side of the load frame aided cooling. One type K thermocouple was spot welded to each threaded insert and monitored temperature at the sample extents. The temperature at the middle of the gage section was measured by a type K thermocouple spot-welded in series to a thin 0.127-mm-diameter type K thermocouple wire. This thin wire was then spot-welded directly to the sample surface using a very low power setting to minimize surface damage from the welding process.

Load-biased thermal cycles were conducted in tension by straining the sample at a rate of 1 × 10

−4

s

−1

until the desired stress was reached. At each constant stress level, the sample was thermally cycled twice (20 K/min heating, 30 K/min cooling) from room temperature through the transformation to ~100 K above the

A

f

temperature and back. Samples were stressed in successive steps to 0, 99, 197, 295, 393, and 517 MPa, or until failure occurred. All properties were measured from the second thermal cycle at each stress level. Raw data from the load-biased thermal cycling tests were converted to true strain and temperature measurements and analyzed using NASA GRC-developed software. The true strain-temperature data were fitted using linear regression in three sections: the martensite coefficient of thermal expansion (CTE) region, the transformation region (fitting to the region of maximum slope), and the austenite CTE region (Figure

1

). Transformation temperatures for the heating (

A

s

,

A

f

) and cooling (

M

s

,

M

f

) portions of each cycle were calculated using the intersection of the fit lines. Absolute strains in the austenite and martensite were measured at the beginning and end of each cooling cycle, respectively. Recovered transformation strain was calculated as the relative strain between the austenite finish and austenite start intersections. Relative work output (work per volume (J/cm

3

)) at each stress level was calculated by multiplying the transformation strain by the applied stress. The amount of unrecovered or "open loop" strain per cycle was measured as the strain difference between the beginning of the heating curve and the end of the cooling curve. It should be noted that this value is the amount of unrecovered strain per cycle under the given test conditions, without any preconceived notion as to specific transformation/deformation mechanism. It may be possible to recover a part of this strain by subjecting the sample to a change in test environment, such as continued thermal cycling but under a stress-free condition. All of these measured values are clearly defined in Figure

1

.
×
3

Results
3.1

Compositional and Microstructural Characterization

The measured metallic compositions (Table

I

) were consistent with the original aim compositions, within the uncertainty of the analytical chemistry technique, which is approximately ±2 pct of the absolute value. Nickel was on target with a maximum measured deviation of ±0.08 at. pct, Pd deviated by a maximum of 0.2 at. pct above target, and Ti compositions averaged 49.6 ± 0.3 at. pct. Quantitative chemical analysis revealed that the impurity contents of the alloys were 0.4 ± 0.1 at. pct C, 0.014 ± 0.009 at. pct N, and 0.25 ± 0.15 at. pct O, with the carbon contamination due to the use of graphite crucibles during melting.

Table I

Aim and Measured Composition (Atomic Percent) and Density for the Ternary NiTiPd Alloys
Sample ID

Aim Composition

Measured Composition

Ti:(Ni,Pd) Ratio

Density g/cm 3

Ti

Ni

Pd

Ti

Ni

Pd

C

N

O

EXT36

50.5

34.5

15

49.7

34.5

15.2

0.4

0.011

0.2

49.7:49.7

6.974

EXT37

50.5

29.5

20

49.9

29.5

20.1

0.3

0.009

0.2

49.9:49.6

7.231

EXT38

50.5

24.5

25

49.6

24.4

25.2

0.06

0.011

0.16

49.6:49.8

7.406

EXT24

50.5

19.5

30

49.6

19.5

30.2

0.4

0.017

0.3

49.6:49.7

7.504

EXT50

50.5

3.5

46

49.4

3.5

46.2

0.5

0.023

0.4

49.4:49.7

8.087
Chemical analysis of the extruded and heat-treated alloys indicated that they were essentially stoichiometric in composition, with measured Ti:(Ni + Pd) ratios ranging from 49.9:49.6 to 49.4:49.7. However, microstructural analysis indicated that all the alloys started out slightly Ti rich, based on the presence of a Ti
2
Ni-type phase (Figure
2
), consistent with their aim compositions.
×
Scanning electron microscopy (SEM) was performed on polished samples and revealed a predominantly single-phase martensitic matrix with a low-density distribution of two types of second-phase particles in all alloys. Representative SEM micrographs for all five alloys are shown in Figure
2
. To identify the different phases, a detailed microstructural analysis was conducted on the Ni
19.5
Ti
50.5
Pd
30
alloy using SEM, TEM, and X-ray diffraction (XRD) techniques.[
13
] Full Reitveld analysis from XRD revealed the room-temperature crystal structure of the alloy to be B19 orthorhombic martensite with lattice parameters of
a
= 2.788 Å,
b
= 4.496 Å, and
c
= 4.760 Å. This was also confirmed by TEM analysis and agrees with the literature, which shows B19 to be the low-temperature phase for ternary NiTiPd alloys containing more than 10 at. pct Pd.[
3
,
15
,
16
]
The second-phase particles (Figures
2
and
3
) consisted of a Ti-rich phase containing predominantly carbon and an intermetallic phase containing Ti, Ni, and Pd. These phases appear in the SEM micrographs as a black phase and a gray phase, respectively (Figure
2
(c), inset). Selected area diffraction (SAD) and electron dispersive spectroscopy (EDS) analysis of the former phase indicated that it was an fcc-structured TiC (Figure
3
), while the intermetallic phase was a Ti
2
(Ni,Pd) phase (Figure
3
) isostructural with the face-centered-cubic Ti
2
Ni phase found in binary Ti-rich NiTi alloys.[
17
] It should be noted that the presence of O has been shown to stabilize a Ti
4
Ni
2
O
x
phase in NiTi alloys.[
18
,
19
] This phase has the same lattice parameter and crystal structure as the Ti
2
Ni phase since O resides interstitially in the Ti
4
Ni
2
O
x
phase, which also makes it hard to detect. Thus, it is likely that the Ti
2
(Ni,Pd) phase in our alloys is also an O-stabilized Ti
4
(Ni,Pd)
2
O
x
phase. The blocky morphology of this phase suggests that it formed interdendritically during solidification and then broke up during extrusion.
×
Analysis of the remaining four alloys (also shown in Figure
2
) by SEM and EDS revealed that they too were composed at room temperature of a martensitic matrix interspersed with a small volume fraction of TiC and Ti
2
(Ni,Pd)/Ti
4
(Ni,Pd)
2
O
x
. In all five alloys, the average particle sizes of the two phases were ~1.1 and 1.5
μ
m for the TiC and Ti
2
(Ni,Pd)/Ti
4
(Ni,Pd)
2
O
x
, respectively, with the total particle volume fraction less than 4 pct in any alloy.
Optical microscopy was performed on etched samples from all five alloys and revealed an equiaxed grain structure with an average grain size of 10 to 15
μ
m in both the longitudinal and transverse directions. Figure
4
shows representative optical micrographs from all five alloys. The equiaxed grain structure is the result of dynamic recrystallization during the extrusion process.
×
Finally, density values for the five alloys are included in Table
I
. The density increased linearly with Pd content, from 6.97 g cm
3
for the 15 at. pct Pd alloy to 8.09 g cm
3
for the alloy with 46 at. pct Pd. The density of binary NiTi is 6.45 g cm
3
[
20
] and increases in the ternary alloys with increasing replacement of Ni with the heavier Pd atom.
3.2

Stress-Free Transformation Temperatures

No-load transformation temperatures were determined

via

unconstrained thermal cycling, as described in Section

II–B

. The samples were thermally cycled under essentially zero load from 323 K (50 °C) (or room temperature in the case of the Ni

34.5

Ti

50.5

Pd

15

alloy) to at least 100 K (100 °C) above the temperature where the transformation was observed to finish and then cooled to the starting temperature, while measuring strain (Figure

5

). As the sample is heated, there is an increase in strain (volume) beyond that due to thermal expansion as the sample transforms from martensite to austenite and a corresponding decrease in strain during cooling through the transformation. The transformation temperatures determined from these curves, as well as the hysteresis values (

A

f

−

M

s

), are shown in Table

II

. There is a linear increase in all transformation temperatures with increasing Pd content, as shown in Figure

6

(a). From 15 to 30 at. pct Pd, the change is 11.2, 11.8, 11.7, and 11.7 K/at. pct Pd, for the

M

f

,

M

s

,

A

s

, and

A

f

, respectively, so the transformation range (

A

f

−

M

f

) and the hysteresis remain relatively constant for these compositions. However, somewhere between 30 and 46 at. pct Pd, the slope changes, and if all the compositions are considered, the slopes become 13.1, 13.3, 14.1, and 13.9 K/at. pct Pd for the

M

f

,

M

s

,

A

s

, and

A

f

, respectively. Thus, with increasing Pd content, the

A

s

and

A

f

increase at a higher rate than the

M

f

and

M

s

, leading to an increase in the hysteresis and the overall transformation range between the lower Pd content composition and the 46 at. pct Pd composition.
Table II
Unconstrained Transformation Temperatures and Thermal Hysteresis
Sample ID

Aim Composition (At. Pct)

Transformation Temperature (K)

Thermal Hysteresis 1 (K)

Thermal Hysteresis 2 (K)

Transformation Strain (Pct)

Ti

Ni

Pd

(

A

f

+

A

s

) − (

M

s

+

M

f

)

EXT36

50.5

34.5

15

338

346

348

356

10

20

−0.10

EXT37

50.5

29.5

20

396

405

406

416

11

21

−0.14

EXT38

50.5

24.5

25

451

463

466

470

7

22

−0.17

EXT24

50.5

19.5

30

506

522

523

532

10

27

−0.21

EXT50

50.5

3.5

46

742

758

782

786

28

68

−0.28
×
×
For comparison, the
M
s
data for the NiTiPd alloys in this study are plotted in Figure
6
(b) with similar data from a number of previous investigations.[
3
‐
5
,
21
,
22
] The data for the current alloys lie within the bounds of those values reported for stoichiometric Ni
50−

x
Pd
x
Ti
50
by Boriskina and Kenina[
3
] and Lindquist and Wayman.[
5
] This is expected, since, like binary NiTi,[
23
,
24
] NiTiPd transformation temperatures are extremely sensitive to (Ni, Pd):Ti ratio on the Ni-rich side of stoichiometry, but are much less sensitive between the Ti-rich and stoichiometric compositions.[
6
] These data also reinforce the contention that the final compositions of the current alloys are very close to stoichiometry, if not slightly Ti rich.
For a fully-annealed, stress-free thermoelastic material, the volume change during transformation is due to a mismatch in lattice parameters between the self-accommodated martensite and the austenite, and is usually small (less than ~0.3 pct).[
25
] For the current alloys, the transformation strain for a no-load thermal cycle increased linearly with respect to Pd content at −7.4 × 10
−3
pct/at. pct (for 15 to 30 at. pct Pd) (Table
II
), indicating an increasing mismatch between the B2 and B19 lattice parameters with increasing Pd content. This would correlate with a linear increase in the middle eigen value,
λ
2
, of the transformation strain matrix for NiTiPd alloys with Pd contents above 10 at. pct.[
26
] Thermal hysteresis is also related to
λ
2
, with minimum hysteresis at
λ
2
= 1 (~11 at. pct Pd), increasing with deviation away from
λ
2
= 1 (decreasing or increasing Pd content from 11 at. pct).[
27
] When hysteresis is defined as (
A
s
+
A
f
) − (
M
s
+
M
f
) as is done by Zhang
et
al.
,[
27
] the current data show an increase in hysteresis, although not linear, from 20.5 K (°C) at 15 at. pct Pd to 68 K (°C) at 46 at. pct Pd. However, in this work, the hysteresis, standardly defined as
A
f
−
M
s
, remains relatively constant at ~10 K (°C) for a wide range in Pd contents (15 to 30 at. pct). This is significantly less than that typically observed for binary NiTi, which generally exhibits a hysteresis of 30 to 50 K (°C) for the B2 to monoclinic transformation, with Ti-rich compositions having the larger hystereses.[
28
] This is consistent both with binary NiTi having a larger deviation from
λ
2
= 1 than the NiTiPd alloys and with the relationship that the B2-B19 hysteresis is smaller than that for B2-B19'. The Ni
3.5
Ti
50.5
Pd
46
alloy exhibited a much larger hysteresis, approximately 28 K (°C), but still much smaller than the 80 to 100 K (°C) reported for the binary Ti
50
Pd
50
composition.[
8
,
12
]
3.3

Strain-Temperature Behavior under Constant Load
4

Discussion

This large unrecovered strain per cycle, even for the NiTiPd alloys, would be problematic for any application requiring repeated cycling if it were to continue at this level, as dimensional instability is undesirable. Loss of tolerance as the SMA element elongates during use will cause the actuator to no longer function properly or will result in early failure of the SMA by low-cycle fatigue. Consequently, the issue is whether the unrecovered strain measured during the second thermal cycle under stress is actually representative of the material behavior during repeated thermal cycling under load.
5

Summary and Conclusions

Constant-load thermal cycles were performed on Ti-rich, ternary Ni

49.5−

x

Ti

50.5

Pd

x

(

x

= 15, 20, 25, 30, and 46 at. pct) alloys of similar microstructure to determine the shape-memory behavior under load and to assess the suitability of these alloys for actuator applications. Over the composition range studied, there was a linear increase in transformation temperature with Pd content from an

A

f

of 356 K (83 °C) in Ni

34.5

Ti

50.5

Pd

15

to 786 K (513 °C) in Ni

3.5

Ti

50.5

Pd

46

. With the increase in Pd content, and therefore transformation temperature, the alloys exhibited a modest decrease in available work output and also an increase in unrecovered strain. Despite this, the work outputs achievable in these alloys were more than half that of similarly processed binary NiTi, while the unrecovered strain during continued cycling was superior to that of the binary NiTi even for alloys with significantly higher transformation temperatures. Furthermore, these alloys could be self-trained, resulting in a slight increase in transformation strain and, more importantly, nearly complete elimination of any unrecovered strain after repeated thermal cycling under stress.
Acknowledgment
This work was supported by NASA's Fundamental Aeronautics Program, Subsonic Fixed Wing Project.
Open Access
This is an open access article distributed under the terms of the Creative Commons Attribution Noncommercial License (
https://​creativecommons.​org/​licenses/​by-nc/​2.​0
), which permits any noncommercial use, distribution, and reproduction in any medium, provided the original author(s) and source are credited.