01.08.2016 | Original Article | Ausgabe 16/2016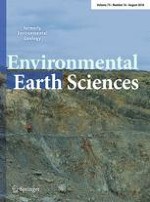 Characterization of the karst hydrogeology of the Boone Formation in Big Creek Valley near Mt. Judea, Arkansas—documenting the close relation of groundwater and surface water
Zeitschrift:
Autoren:

John Murdoch, Carol Bitting, John Van Brahana
Wichtige Hinweise
John Murdoch: Retired from University of Arkansas, Department of Biologic and Agricultural Engineering, Fayetteville, Arkansas 72701, USA.
Abstract
The Boone Formation has been generalized as a karst aquifer throughout northern Arkansas, although it is an impure limestone. Because the formation contains from 50 to 70 % insoluble chert, it is typically covered with a mantle of regolith, rocky clay, and soil which infills and masks its internal fast-flow pathways within the limestone facies. This paper describes continuous monitoring of precipitation, water levels in wells, and water levels in streams (stream stage) in Big Creek Valley upstream from its confluence with the Buffalo National River to characterize the nearly identical timing response of relevant components of the hydrologic budget and to clearly establish the karstic nature of this formation. Although the complete hydrographs of streams and wells are not identical in the study area, lag time between precipitation onset and water-level response in wells and streams is rapid and essentially indistinguishable from one another. The spikey nature of the stream hydrographs reflects low storage, high transmissivity, and rapid draining of the upper zones of the karst aquifer, whereas the longer-term, plateau-like draining in the lower zones reflects groundwater perching on chert layers that feed low-yield springs and seeps through lower storage and lower permeability flow paths. Groundwater drainage to thin terrace and alluvial deposits with intermediate hydraulic attributes overlying the Boone Formation also shows rapid drainage to Big Creek, consistent with karst hydrogeology, but with high precipitation peaks retarded by slower recession in the alluvial and terrace deposits as the stream peaks move downstream.