08.05.2019 | Ausgabe 5/2019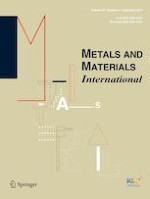 Characterization of the Mechanical Properties of a High-Strength Laminated Vibration Damping Steel Sheet and Their Application to Formability Prediction
Zeitschrift:
Autoren:

Hyeonil Park, Se-Jong Kim, Jinwoo Lee, Ji Hoon Kim, Daeyong Kim
Wichtige Hinweise
Publisher's Note
Springer Nature remains neutral with regard to jurisdictional claims in published maps and institutional affiliations.
Abstract
In this study, the mechanical properties of a high-strength laminated vibration damping steel sheet (LVDSS) with stretch-dominated deformation behavior were characterized and successfully applied to formability prediction. The high-strength LVDSS was fabricated with dual-phase 590 steel sheets as outer skins and polymeric adhesive layer as a core via roll bonding. The uniaxial and biaxial mechanical behaviors were evaluated by performing uniaxial tension and in-plane biaxial tension tests, respectively, while the forming limit was investigated by conducting punched dome tests. Then, based on the experimental data, the mechanical properties of the LVDSS were characterized, viz., the hardening curve, yield function, and forming limit curve. As an example of LVDSS application, a square cup drawing test was conducted and a dashboard prototype was fabricated using an LVDSS, and the deformation and failure behaviors were successfully predicted via a finite element simulation performed by inputting the characterized mechanical properties.