01.08.2016 | Original Contribution | Ausgabe 8/2016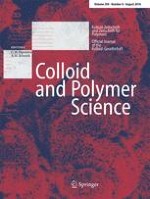 Characterization of the mechanical properties of cross-linked serum albumin microcapsules: effect of size and protein concentration
Zeitschrift:
Autoren:

Jonathan Gubspun, Pierre-Yves Gires, Clément de Loubens, Dominique Barthès-Biesel, Julien Deschamps, Marc Georgelin, Marc Leonetti, Eric Leclerc, Florence Edwards-Lévy, Anne-Virginie Salsac
Wichtige Hinweise
P.Y. Gires and J. Gubspun contributed equally to this work
Abstract
A microfluidic technique is used to characterize the mechanical behavior of capsules that are produced in a two-step process: first, an emulsification step to form droplets, followed by a cross-linking step to encapsulate the droplets within a thin membrane composed of cross-linked proteins. The objective is to study the influence of the capsule size and protein concentration on the membrane mechanical properties. The microcapsules are fabricated by cross-linking of human serum albumin (HSA) with concentrations from 15 to 35 % (
w
/
v
). A wide range of capsule radii (∼40–450 μm) is obtained by varying the stirring speed in the emulsification step. For each stirring speed, a low threshold value in protein concentration is found, below which no coherent capsules could be produced. The smaller the stirring speed, the lower the concentration can be. Increasing the concentration from the threshold value and considering capsules of a given size, we show that the surface shear modulus of the membrane increases with the concentration following a sigmoidal curve. The increase in mechanical resistance reveals a higher degree of cross-linking in the membrane. Varying the stirring speed, we find that the surface shear modulus strongly increases with the capsule radius: its increase is two orders of magnitude larger than the increase in size for the capsules under consideration. It demonstrates that the cross-linking reaction is a function of the emulsion size distribution and that capsules produced in batch through emulsification processes inherently have a distribution in mechanical resistance.