01.06.2011 | Original Contribution | Ausgabe 8/2011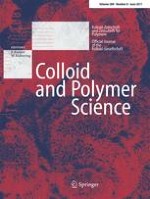 Characterization of the water-soluble comb–linear interpolyelectrolyte nanoaggregates by Monte Carlo simulations and fluorescence probe techniques
Zeitschrift:
Autoren:

Daniel G. Angelescu, Marilena Vasilescu, Georgios Staikos
Abstract
Insight into the microstructure of the aggregate formed by the Coulombic interaction between the cationic comb copolymer poly(acrylamide-
co
-[3-(methacryloylamino) propyl]trimethylammonium chloride)-
graft
-polyacrylamide, P(AM-co-MAPTAC)-g-PAM, and the anionic polyelectrolyte poly(sodium acrylate), NaPA, was provided by Monte Carlo simulations and the fluorescence probe technique. The computational outcome revealed a core–shell organization of the comb copolymer, with an indefinite boundary between the inner and outer region. The copolymer had a spherical shape, and its backbone moiety adopted an extended conformation. The spatial extension of the copolymer and the core region contracted when association with the oppositely charged polyelectrolyte occurred. The fluorescence probes 2-dimethylamino-6-propionylnaphthalene, PRODAN, and 1-anilinonaphthalene-8-sulfonic acid, ANS, exhibited a specific interaction with the complex. A lower polarity in the polyelectrolyte complex as compared with the water polarity was sensed by the fluorescence probes, a feature which was attributed to a certain compaction of the AM-co-MAPTAC part of comb copolymer.