01.06.2011 | Original Paper | Ausgabe 1/2011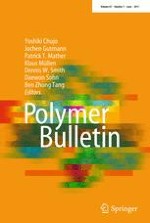 Characterization of thermo-sensitive hydrogels based on poly(
N

-isopropylacrylamide)/hyaluronic acid
Zeitschrift:
Autoren:

Ramón Coronado, Sara Pekerar, Arnaldo T. Lorenzo, Marcos A. Sabino
Abstract
In this study, an hydrogel was synthesized from the monomer
N
-isopropylacrylamide (NIPA), generating the poly(
N
-isopropylacrylamide) (PNIPA) and other formulations were synthesized in the presence of 1, 2, and 3% hyaluronic acid (HA) for obtain an interpenetrating polymer network. For all the obtained hydrogels, the thermo-sensitive response was studied since the lower critical solution temperature (LCST) and was analyzed by differential scanning calorimetry (DSC), nuclear magnetic resonance (NMR), and oscillatory rheology at constant frequency as a function of temperature. The LCST transition temperature (
Tt
onset
) was found between 34.4 and 35.5 °C. By scanning electron microscopy (SEM) PNIPA-HA formulations showed a porous morphology. The applicability of the hydrogels as injectable and non-toxic materials was verified, respectively, by rheology results and by cytotoxicity studies through an in vitro test of cell hemolysis on blood agar.