01.06.2017 | Ausgabe 6/2017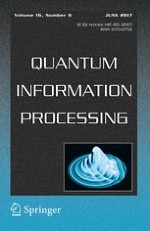 Characterizing the Nash equilibria of a three-player Bayesian quantum game
Zeitschrift:
Autoren:

Neal Solmeyer, Ricky Dixon, Radhakrishnan Balu
Abstract
Quantum games with incomplete information can be studied within a Bayesian framework. We consider a version of prisoner's dilemma (PD) in this framework with three players and characterize the Nash equilibria. A variation of the standard PD game is set up with two types of the second prisoner and the first prisoner plays with them with probability
p
and
\(1-p\)
, respectively. The Bayesian nature of the game manifests in the uncertainty that the first prisoner faces about his opponent's type which is encoded either in a classical probability or in the amplitudes of a wave function. Here, we consider scenarios with asymmetric payoffs between the first and second prisoner for different values of the probability,
p
, and the entanglement. Our results indicate a class of Nash equilibria (NE) with rich structures, characterized by a phase relationship on the strategies of the players. The rich structure can be exploited by the referee to set up rules of the game to push the players toward a specific class of NE. These results provide a deeper insight into the quantum advantages of Bayesian games over their classical counterpart.