2015 | OriginalPaper | Buchkapitel
Charitable Behavior and Rationality: Individual Contributions to Public Goods, the Case of the Georgia Public Television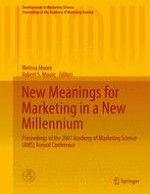 Erstes Kapitel lesen
Autoren: Enrique Manzur, Roberto Friedmann
In recent years, marketing has become a major component in the strategies of many non-profit organizations such as colleges, hospitals, museums, symphonies, and even churches. These organizations have all recognized the importance of knowing and understanding their target markets in order to improve their performance. The concepts of segmentation, positioning, and promotion are now equally important for non-profit organizations. However, Understanding why people voluntarily contribute to different causes remains unclear. In particular, and despite its relevance, the provision of public goods through private donations has been almost ignored in the marketing literature. Economic theory predicts that when confronted with public goods, people will "free ride". That is, even if they enjoy the public good (e.g., watching public television), they will not make a contribution with the expectation that others will contribute.
However, the predictions derived from this assumption of rational selfishness are apparently violated in some contexts. For example, public television successfully raises enough money from viewers to continue to broadcast, and The United Way and other charities receive contributions from many if not most citizens. In fact, there appear to be many instances in which public goods are indeed partially privately supplied, a particularly interesting example is the Georgia Public Television (GPTV). The basic assumption of this study is that individual donations should not be viewed just as a transfer but as an exchange, and exchange is the core concept of marketing.
This study contributes to the existing literature on individual contributions to public goods by integrating the economical and psychological factors that explain why people decide to contribute or to free ride when facing a public good. In particular, this study identifies the psychographies and demographic factors that help distinguish members from free riders of GPTV. A conceptual model of membership to GPTV is proposed. This model focuses on three broad types of factors affecting membership: (1) Psychographies, (2) Demographics, and (3) Usage variables. Based on the suggested conceptual model twelve propositions are presented. Finally, the implications of the study are discussed, and directions for future research are proposed.