10.05.2018 | Commentary | Ausgabe 3/2018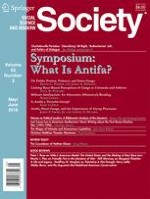 Charlottesville Paradox: The 'Liberalizing' Alt-Right, 'Authoritarian' Left, and Politics of Dialogue
Zeitschrift:
Autoren:

Joe Phillips, Joseph Yi
Abstract
In the aftermath of the 2017 Charlottesville tragedy, the prevailing narrative is a Manichean division between 'white supremacists' and 'anti-racists'. We suggest a more complicated, nuanced reality. While the so-called 'Alt-Right' includes those pursuing an atavistic political end of racial and ethnic separation, it is also characterised by pluralism and a strategy of nonviolent dialogue and social change, features associated with classic liberalism. The 'Left,' consistent with its historic mission, opposes the Alt-Right's racial/ethnic prejudice; but, a highly visible movement goes farther, embracing an authoritarianism that would forcibly exclude these voices from the public sphere. This authoritarian element has influenced institutions historically committed to free expression and dialogue, notably universities and the ACLU. We discuss these paradoxes by analysing the discourse and actions of each movement, drawing from our study of hundreds of posts and articles on Alt-Right websites and our online exchanges on a leading site (
AltRight.​com
). We consider related news reports and scholarly research, concluding with the case for dialogue.