2012 | OriginalPaper | Buchkapitel
11. Chelate Assisted Phytoextraction Using Oilseed
Brassicas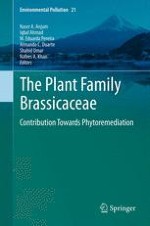 Erstes Kapitel lesen
Autor: Firdaus-e-Bareen
Verlag: Springer Netherlands
Abstract
Members of the family Brassicaceae have a special ability to absorb such large amounts of metals as are often beyond the tolerance range of other plants. Among the oilseed
Brassicas
, work on phytoextraction has been centered on
Brassica juncea
, a well known metal hyperaccumulating species. The oilseed
Brassicas
mainly include
B. carinata
(Ethiopian mustard),
B. elongata
(elongated mustard),
B. juncea
(Indian mustard),
B. napus
(oilseed rape/canola),
B. narinosa
(broad-beaked mustard),
B. nigra
(black mustard) and
B. rapa
(turnip mustard). Although, there has been a considerable research on the phytoextraction abilities of these plants from heavy metal contaminated soil, lesser work has been done with reference to chelate-assisted phytoextraction. Research on chelate assisted phytoextraction has mainly been centred on
B. juncea
and
B. napus
on account of a better performance of these plants in metal uptake. Chelating agents like EDTA are capable of improving translocation of metals from roots to shoots and then into leaves. Higher bioaccumulation factors have been observed in stems and leaves of plants under the influence of chelating agents. As many of these oilseed crops yield edible oil, the high heavy metal content translocated to the oil bearing seeds is important. Research shows evidence that the seeds contain a considerable amount of hazardous toxic metals if grown on metal contaminated sites. However, the translocation into seeds is checked under lower doses of chelating agents like EDTA. Among the heavy metals, most of the research work on chelate assisted phytoextraction has been on Pb contaminated soil and application of chelating agents like EDTA and EDDS have shown significantly higher metal uptake in plants. Work has also been done on heavy metals like Cd, Cu, Cr and Zn. Chelate assisted phytoextraction has two main drawbacks. Firstly, the phytotoxic effect of the chelate itself with a potentially long residence time in soil and secondly, the leaching hazard of biolabile heavy metals to cause ground water pollution. Several measures have been suggested to overcome these hazards.