27.10.2017 | Original | Ausgabe 2/2018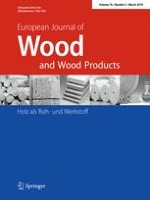 Chemical and anatomical characterization, and antioxidant properties of barks from 11
Eucalyptus

species
Zeitschrift:
Autoren:

L. Lima, I. Miranda, S. Knapic, T. Quilhó, H. Pereira
Abstract
Bark is an interesting and available byproduct from the forest industry that can be used as biomass for biorefineries. The barks from 11
Eucalyptus
species (
E. botryoides, E. camaldulensis, E. globulus, E. grandis, E. maculata, E. ovata, E. propinqua, E. resinifera, E. rudis, E. saligna
and
E. viminalis)
were studied for 4-year-old trees regarding their structural and chemical features, including the composition of ethanol–water extracts and their antioxidant properties. The bark of these young trees had a thin or inexistent rhytidome, with a reduced periderm with low suberized and lignified cells. The barks were structurally similar and characterized by a homogeneous phloem with little ray expansion and alterations in the collapsed phloem. Photomicrographs documented the main structural differences. There was a between-species variation in chemical composition: extractives ranged from 5.5 to 18.6% (the hydrophilic extractives were dominant) and lignin from 14.4 to 23.5%. The carbohydrates composition also showed between species variation, for example the glucose-to-xylose ratio ranged from 3.8 to 12.1, allowing to consider carbohydrate targeted utilizations. Suberin content was in all cases very low (< 1%). The between-species variation of the ethanol–water bark extracts was also high: total phenolics ranged from 283 to 917 mg GAE/g of extract, flavonoids from 121 to 387 mg CE/g of extract and tannins from 94 to 545 mg CE/g extract. The antioxidant activity ranged from 368 to 1042 mg Trolox/g of extract and IC50 values from 3.4 to 8.6 µg extract/ml (the value for trolox was 2.6). The bark extract of
E. rudis
was particularly interesting as regards its antioxidant capacity, as well as that of
E. maculata
and
E. propinqua
.