01.07.2016 | Original | Ausgabe 4/2016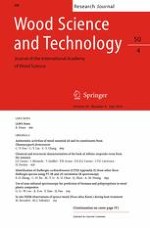 Chemical and structural characterization of the bark of
Albizia niopoides

trees from the Amazon
Zeitschrift:
Autoren:

Jair F. Carmo, Isabel Miranda, Teresa Quilhó, Vicelina B. Sousa, Fábio H. D. J. Carmo, João V. F. Latorraca, Helena Pereira
Abstract
The chemical composition and anatomy of
Albizia niopoides
bark from trees grown in a native forest area in the Amazon region, Brazil, were studied. The
A. niopoides
bark has a narrow rhytidome with thin phellem layers. Conspicuous structural elements are strands of axial parenchyma associated with fibres and large sclereid nodules. The mean chemical composition of
A
.
niopoides
bark was ash 5.5 %, total extractives 14.5 %, mainly corresponding to polar compounds that were soluble in ethanol and water, lignin 37.1 % and suberin 0.5 %. The polysaccharides composition showed a predominance of glucose and xylose (59.9 and 33.3 % of total monosaccharides, respectively). The ethanol–water bark extract had a high content in phenolics: total phenolics 247.15 mg gallic acid/g extract, flavonoids 59.08 mg catechin/g extract and tannins 149.98 mg catechin/g extract. The antioxidant activity corresponded to 839.05 mg Trolox per g of extract or 95.98 mg Trolox per g of bark.
Albizia niopoides
bark fractures easily with a predominance of larger particles over 2 mm (60.4 % of the total sample mass) and with little formation of fines (15 % of the total sample mass). Extractives were present preferentially in the finest fraction with enrichment in ethanol solubles. A potential valorization of
A. niopoides
bark based on the use of polar extractives and lignin was suggested.