01.04.2015 | SPECIAL FEATURE: ORIGINAL ARTICLE | Ausgabe 2/2015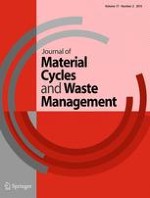 Chemical characterization in correlation to toxicity evaluation for water reuse of solid waste leachates in the itMBR-RO system
Zeitschrift:
Autoren:

Praewpimon Polngam, Wilai Chiemchaisri, Anekpracha Kaewmanee, Chart Chiemchaisri, Kazuo Yamamoto
Abstract
This research investigates chemical characterization and toxicity evaluation of solid waste leachates along operating treatment units of the itMBR-RO (inclined tubes membrane bioreactor-reverse osmosis) system. Leachates from solid waste disposal sites contain high pollutant concentrations that pose acute toxicity effects on living organisms. Overall treatment processes could reduce COD, ammonia nitrogen and heavy metals by >99, >99 and >97 %, respectively. The xenobiotic compounds can be effectively removed (83.2–100 %) with the itMBR-RO system. 96 h of toxicity tests revealed that not only was NH
3
toxic to the Nile Tilapia (
Oreochromis niloticus
), there were other pollutants in the leachate synergy such as COD, nitrite and conductivity. Nitrite was the most potent pollutant in the MBR-treated leachates giving an acute toxic effect in combination with ammonia. In conclusion, the itMBR-RO system could completely eliminate acute toxicity of the solid waste leachates; although a few toxic organic compounds still remained in the RO permeate i.e. DEHP, hexadecanoic acid and phenol, 2, 4-bis-(tert-butyl).