01.03.2015 | Original | Ausgabe 2/2015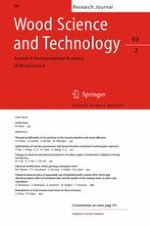 Chemical modification of fast-growing eucalyptus wood
Zeitschrift:
Autoren:

Bruno D. Mattos, Tainise V. Lourençon, Luis Serrano, Jalel Labidi, Darci A. Gatto
Abstract
In this study, a new simple method for chemical modification of wood from fast-growing
Eucalyptus saligna
(blue gum) was tested by a two-step treatment with methacryloyl chloride. The wood samples were submerged in a solution of 10 % methacryloyl chloride in dichloromethane for 15 h and then exposed to three temperatures: air dried, 50 and 100 °C for 2 h. The chemical modifications of the wood were examined by ATR-IR and
13
C CP/MAS solid-state NMR; quantitative chemical composition of wood samples by means of wet chemical quantification, HPLC, TGA; colorimetric evaluation by
CIELAB
method and UV–Vis spectroscopy. Water uptake tests were also performed. A partial substitution of the hydroxyl by methacrylate groups on the cell wall of blue gum wood was observed, and also loss of a hemicelluloses fraction after the treatments. The colour change increased with increasing temperature in the second step of the treatment. Dimensional stability and water repellence were improved by 40–50 and 60–75 %, respectively.