01.04.2013 | Research Paper | Ausgabe 4/2013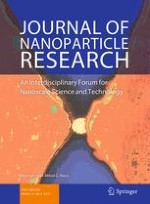 Chemical modifications and stability of diamond nanoparticles resolved by infrared spectroscopy and Kelvin force microscopy
Zeitschrift:
Autoren:

H. Kozak, Z. Remes, J. Houdkova, S. Stehlik, A. Kromka, B. Rezek
Wichtige Hinweise
Special Issue Editors: Juan Manuel Rojo, Vasileios Koutsos
This article is part of the topical collection on Nanostructured Materials 2012
Abstract
Chemically modified 5-nm detonation diamond nanoparticles (DNPs) are characterized by grazing angle reflectance (GAR) Fourier transform infrared spectroscopy (FTIR), Kelvin force microscopy (KFM), and X-ray photoelectron spectroscopy (XPS). Using GAR-FTIR we discuss the surface chemistry and stability of the as-received DNPs, and compare them with DNPs modified by annealing in air or by oxygen plasma treatment. Infrared spectra of the as-received DNPs are dominated by C–H bonds and carboxylic groups (COOH), probably related to the wet chemical treatment in acids. Annealing in air and oxygen plasma lead to a significant enhancement of C=O groups and vanishing C–H groups. After short-term (10 min) oxygen plasma treatment, infrared peaks change in intensity and position indicating a spontaneous reactivity of DNPs, probably due to the partial erosion of the graphitic shell. Prolonged oxygen plasma treatment (40 min) or annealing in air at 450 °C for 30 min provides a stable DNPs surface. Surface potentials of DNPs obtained by KFM are well correlated with the GAR-FTIR measurements. XPS characterization corroborates DNPs compositional changes after the modification procedures.