2018 | OriginalPaper | Buchkapitel
Chemical Shrinkage Characteristics of Binder Pastes in Ultra High Performance Concrete Made from Different Types of Cement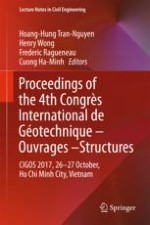 Erstes Kapitel lesen
Autor: Quoc Si Bach
Verlag: Springer Singapore
Jetzt einloggen
Abstract
The using of silica fume replaces a part of cement in concrete production leading to the cement hydration mechanism in binder paste has changed. The hydration of cement and the accompanying phenomena such as heat generation, chemical shrinkage development are the results of interrelated chemical processes. Therefore, the chemical composition in pure cement directly affect to a specific concrete mixture.
The Reactive Powder Concrete (RPC) is Ultra-High Performance Concrete (UHPC). It is composed of the small aggregates and the ultrafine such as the silica fume (SF) for reaching a high compact. The high compact and the using less water in concrete can lead up to the high durability as well as ultra-high strength in the material concrete. The high durability and ultra-high strength of concrete with the using of silica fume for concrete production contributes to reduce environmental pollution.
In this paper, the characteristics of the development of chemical shrinkage from 2 days to 7 days in RPCs are analyzed. These RPCs are made from three different types of cement with different content of of mineral components in its. The analysis focuses on the characteristics of the hydration pore (as well as the chemical shrinkage) formation in concrete by time when the content of minerals composition in the cement changes.
The hydration pore model is calculated basing on the simulation program for microstructure development of cement-SF paste in the process of cement hydration. The program of the hydration is verified via measuring heat flux emitted from hydration process by isothermal calorimetry for all concrete samples containing different types of cement. As parallel, the development of the hydration pore (as well as the chemical shrinkage) is determined by experiment on measuring by gravimetry for these RPCs.