01.04.2020 | Original Article | Ausgabe 8/2020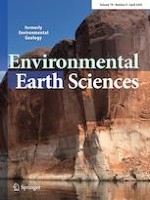 Chemical weathering in Antarctica: an example of igneous rock particles in Big Lachman Lake sediments, James Ross Island
Zeitschrift:
Autoren:

Martin Vašinka, Lukáš Krmíček, Dalibor Všianský, Filip Hrbáček, Daniel Nývlt
Wichtige Hinweise
Publisher's Note
Springer Nature remains neutral with regard to jurisdictional claims in published maps and institutional affiliations.
Abstract
Lacustrine sediments of the Big Lachman Lake (James Ross Island, Antarctica) are dominated by clay- and silt-sized particles of varied petrographic composition. These are of volcanic origin and are derived predominantly from the Mendel Formation. The intensity of chemical weathering of volcanic rock particles in the sediments was expressed by the Chemical Index of Alteration (CIA), which reflects alteration of feldspars and formation of clay minerals. The observed mineral assemblage of montmorillonite, illite, and kaolinite probably originated from alteration of volcanic glass and from alteration of feldspars to clay minerals. CIA weathering rates from the lacustrine sediments are similar to those of Early Jurrasic high-Ti volcanic rocks of the Mount Poster Formation and Middle Jurrasic high-Ti volcanic rocks of the Mapple Formation from the Antarctic Peninsula. However, the sediments show a good fit in OIB-normalized incompatible trace-element patterns only with the high-Ti volcanic rocks from the Middle Jurassic rhyolites of the Mapple Formation, while the fit with Cenozoic basalts of the James Ross Island Volcanic Group is poorer. Rocks from the Antarctic Peninsula were probably transported through the Prince Gustav channel by small glaciers during the Neogene and Quaternary.